#Tracklife – Bicarbonate for Speed
There are probably as many supplements out there claiming to enhance sporting performance as there are bike brands. But how does one know what's "snake oil" and, what actually works? The truth is, it's quite hard.  Supplement companies invest immensely in marketing to convince you that a capsule they are selling will make you _______ (insert claim of choice).
There are two, legal, supplements I'd comfortably say "work" for endurance & speed sports; bicarbonates and caffeine (which we'll cover in a later blog).
What are bicarbonates?
From a chemistry perspective, bicarbonate is a base that buffers an acid. The most common form (used in sports science) is sodium bicarbonate otherwise known as baking soda. Like what you might have used in high school chemistry class with vinegar (an acid) to make a bubbly solution. In the context of exercise performance, there are two types of buffers, some that act within your bloodstream (I.e., outside of cells), and some act within the cell. The most utilized within cell buffer is Beta-Alanine, but we will not discuss it today.
When it works. Bicarbonates must be used within the right context. They are effective in events lasting ~30sec to ~8min. On the track, we could look at the kilo, keirin, team sprint, as well as team and individual pursuit. Now if you remember our second blog (insert hyperlink) we discussed energy systems. This time frame "maxes out" the ATP system, the alactic glycolytic system, and if long enough the upper limits of the aerobic energy system. We are talking about all out-efforts, with little to no pacing.
How it works. When your body is working that hard it produces lactate and hydrogen ions (H+) which negatively impact muscle function. The idea behind bicarbonates is that by ingesting a base you buffer some of the H+ (note: your body already does a lot of buffering!) giving you that edge.
How can I implement this? Evidence shows that ingesting 0.2-0.3 g/kg of body weight is performance-enhancing. Timing-wise this would be done 1-2hrs before the event. I personally found that diluted in water and gradually sipping it with a small snack to be the most tolerable. Keep in mind that the performance advantages are small. Like we previously said don't skimp out on consistent training, good nutrition, and rest.
WARNING. Not everyone tolerates bicarbonates and finding the right dosage may involve some conservative experimentations. Common side effects are vomiting, burping, and diarrhea. This is definitely something you want to test out before using it for your "A" race.
Normand Richard, MSc, CSEP-CEP, ACSM-CET.
Richard Physiological Services
Physiologist & Occupational Fitness Consultant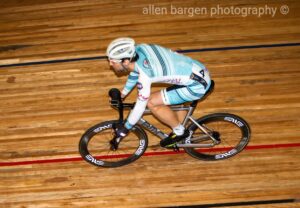 Normand has been involved in physiology for more than 10 years. He has research, clinical, occupational, and performance experience, and a professional consulting firm (richardphysiology.com) Outside of work he enjoys track racing for its community, simplicity, and challenge.