Vaccination Card Required Starting September 13th
NOTICE
Notice to all members 22 years of age and older attending the velodrome.
Beginning September 13, 2021, the BVC, and all those 22 years of age and older wanting to participate in BVC activities (events) will be required to comply with the PHO Order GATHERINGS AND EVENTS  – SEPTEMBER 10, 2021. It is your obligation to understand the direction given under the order.
For BVC activities (events):
Book your session via the membership portal
Come only when well
Show your proof of vaccination when requested by BVC or by Volleyball BC.*
Wash and sanitize your hands often
Wear a face covering or mask when not riding
Maintain physical distance from others when not riding
*If you have not yet obtained a copy of your vaccination card you can do so here.
*A partial vaccination is acceptable only from September 13,  till October 24.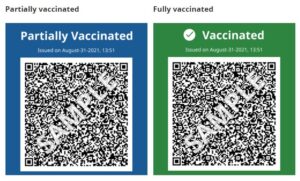 *Note that in the first 13 days (two weeks) a copy of the paper-based vaccination card that was issued at the time of vaccination will suffice.
"between September 13, 2021, and September 26, 2021, a participant may provide the paper record of vaccination which the participant received at the time of vaccination from the person administering the vaccination, and photo identification, as proof that the participant has received at least one dose of vaccine."
October 24, 2021 – the next phase