#TrackLife – Why are track times getting so darn fast? Fitness vs. Technology
Track times have been getting faster and faster.  In 2011 Jack Bobridge set the 4000 m record with a time of 4:10.53 and that record held for an incredible seven years.  But once it was broken, the subsequent record has been rebroken six times since 2018 and currently sits at 4:01.934 with Filippo Ganna.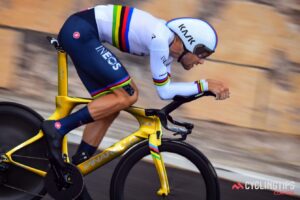 This begs the question; are riders getting fitter or is there something else in play?
Recently, a colleague forwarded me an article from 2001 that reviewed the characteristics of track cyclists. My colleague asked if the article was still valid today more than 20 years later, or had things changed significantly since it was published.
Before we attempt to address this question let's take a little step back and see exactly what type of fitness a World Cup level track rider requires (both sprinter and endurance riders). To better appreciate the differences, we must review the three energy systems which power our movements (figure 1). Keep in mind they don't really switch on/off but rather overlap.
ATP PCr Duration: ~10 seconds Type: sprint/explosive
Anaerobic glycolysis Duration: ~30-60 seconds Type: high-end power (lead-out/establishing a breakaway)
Aerobic glycolysis/Krebbs cycle/electron transport chain (that's a mouthful!) Duration: minute to hours Type: steady riding below critical power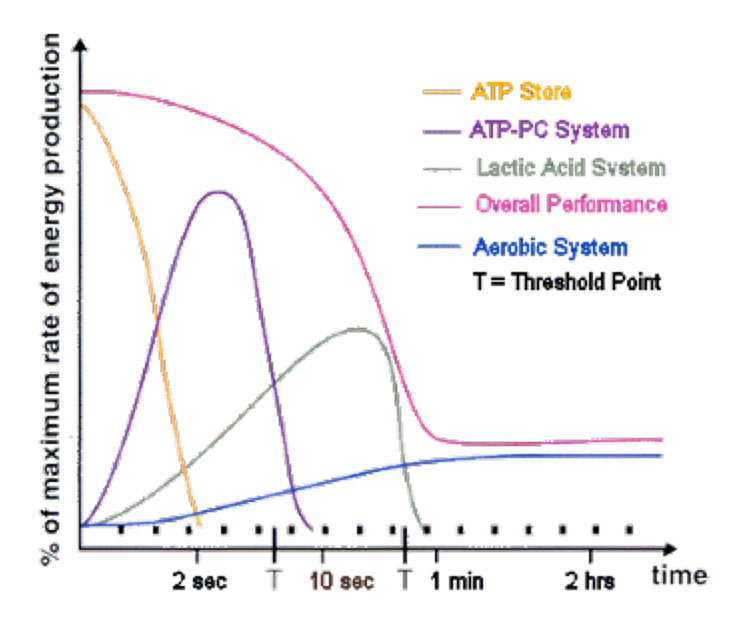 Figure 1
Basically, what this paper from 2001 shows is the extent to which track cyclists have honed these systems.
Let look at a few examples from the article in question.
SRM data reveals a peak of 1020 watts and an average of 752 watts in a World Cup qualifying 200 m sprint for a female woman sprinter. Given the duration, this would mostly focus on the ATP PCr system.
Next up we have a kilo rider (male). From this, we see a peak of 1799 watts and an average of 757 watts therefore a nice blend of ATP PCr, and anaerobic glycolysis and lastly,
we discuss a male and female individual pursuit specialist who average 495 and 381 watts respectively. This would be mostly aerobic energy production with a small blend of the other two systems.
As we stated in the opening, track times are getting faster, and this report is dated from 2001 so what exactly has changed. Have we drastically improved fitness or discovered new energy systems? The answer to those questions is a big "no".
To go fast on the track, you either push more watts or become slipperier.
Some teams like HUUB Wattbike have invested considerably in technological advancements with astonishing results. Therefore, faster times are mostly from technology advancement, the use of data analytics, and a better understanding of training, physiological adaptation, and recovery processes.
Even in 2001, the authors knew that we were pushing the limits of human physiology. They write that "Even relatively large additions in their [track cyclist] physiological attributes if it were possible, would not necessarily result in corresponding improvements in performance times. This is because a small increment in speed requires a cubic rise in power output. The question now facing coaches, sports scientists and, cycling administrators are 'where do we spend our time and resources improving the energy supply (i.e. training) or decreasing the energy demand (i.e. equipment modifications and innovations)?"
Although there is not a hard answer, to recap physiology has not changed. Faster track times are not because of huge improvements in fitness but
because of technology advancement and
sub-specializations in specific disciplines (I.e. targeting only an individual pursuit, not a madison, and tailoring one's training towards that).
How can you apply these findings:
The first thing to remember is that most of us are not at our physiological ceiling or near it (certainly not me!). Therefore, working on fitness is key, and if you can focus your workouts to where you'd like to excel, even better. In other words, if you want to win match sprints, doing long endurance rides won't help you much. After that consider looking at equipment and technology. This being said, nothing feels as good as a nice set of race wheels!
The bottom line: Train for specificity to a point of marginal gains, then start buying new toys.
Strength of the research:
Sample of professional track cyclist from Australia. SRM collected data. Analysis of sprint and endurance athletes.
Weaknesses of the research:
The sample is limited to Australia, there could be geographical differences (?). Mostly young athletes, times not reflective of master athletes. Slightly older article but still valid.
References
Craig NP, Norton KI. Characteristics of track cycling. Sports Med. 2001;31(7):457-68. DOI: 10.2165/00007256-200131070-00001. PMID: 11428683.
Normand Richard, MSc, CSEP-CEP, ACSM-CET.
Richard Physiological Services
Physiologist & Occupational Fitness Consultant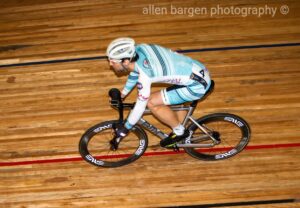 Normand has been involved in physiology for more than 10 years. He has research, clinical, occupational, and performance experience, and a professional consulting firm (richardphysiology.com) Outside of work he enjoys track racing for its community, simplicity, and challenge.