BIPOC Program
During Black History month we are pleased to announce the issuing of the BVC official Statement in Support of Black Indigenous and People of Colour (BIPOC). "It is important for youth that do not traditionally identify with our sport of cycling to have as many barriers removed as possible so our sport can represent the diversity of our local community. As the President of the Burnaby Velodrome Club, I am proud of the work of the BVC Board of Directors in making an official statement in support of BIPOC. Having been in the sport for almost 40 years, I am excited to see the global shift in the diversity in the sport of cycling prompted by the actions at the highest level of the sport. From our local perspective at the BVC, the work that started over a decade ago with our Aboriginal Youth Program initiated by the late Kelyn Akuna will now officially continue and increase in scope to include BIPOC. We look forward to the ongoing work that will be required to continue and improve in this area." Hans Loeffelholz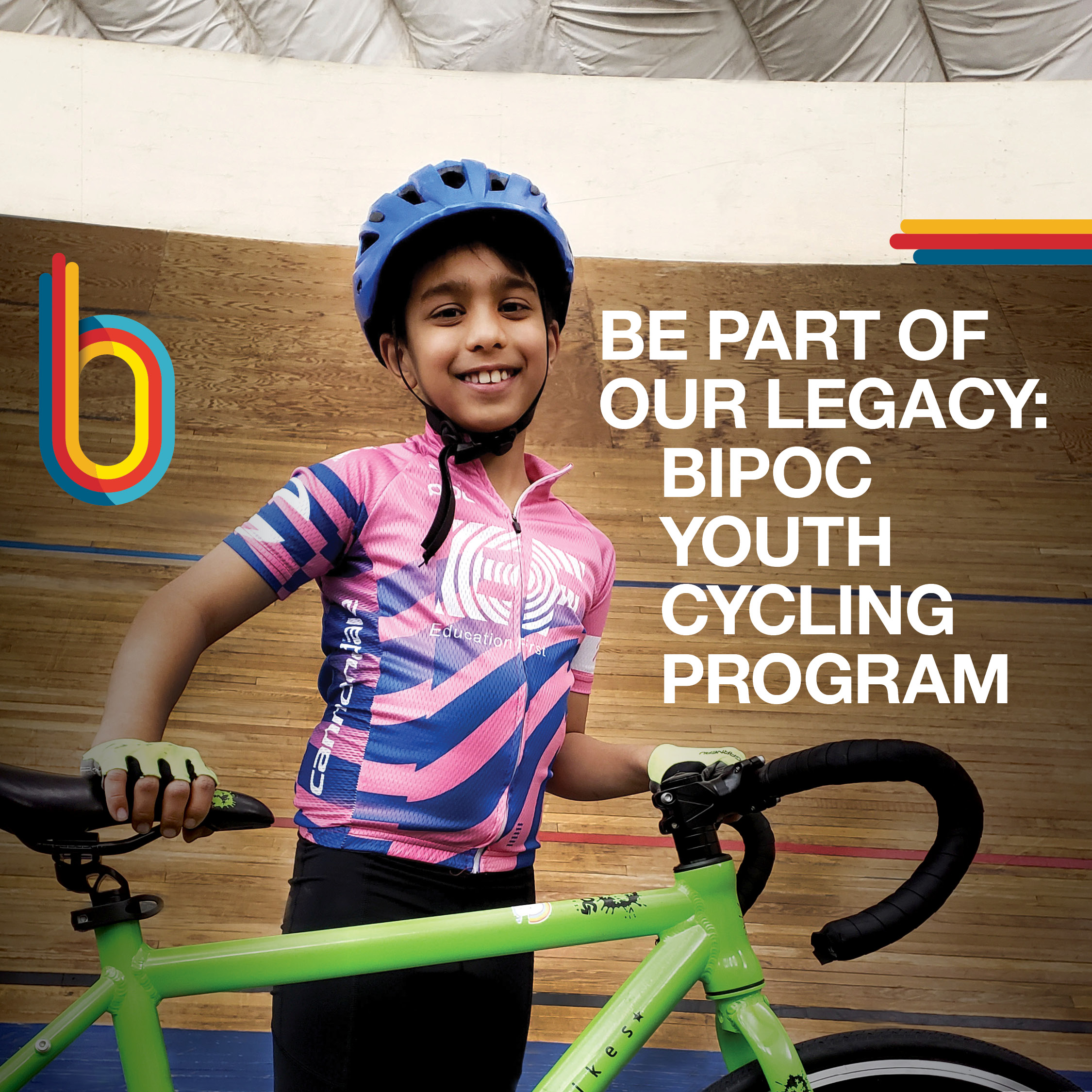 BVC Statement in Support of BIPOC
The Burnaby Velodrome Club (BVC) operates out of the Harry Jerome Sports Centre located on the ancestral and unceded homeland of the hən̓ q̓ əmin̓ əm̓ and Sḵwxwú7mesh-speaking peoples. We are privileged to operate on the homeland of our local indigenous people, and in a facility named after one of the world's great black athletics champion.
The BVC recognizes that cycling at its most basic level is utilitarian and used globally. In our area of influence, it has become apparent the pathway for diversity in track cycling needs to be clearer, supported, and promoted. The Burnaby Velodrome club will continue to actively take the lead in this regard by providing opportunities for BIPOC youth in our track cycling program, where they might not otherwise be proportionally represented.
In 2010 the Burnaby Velodrome club initiated the Aboriginal Youth Cycling (AYC) program, the first of its kind in Canada. Recognizing that visible minorities are underrepresented in our sport, the Burnaby Velodrome Club has expanded the AYC program to include Black, Indigenous, and People of Colour (BIPOC). The BIPOC Youth Cycling program dedicates track time and coaching to BIPOC youth in our community. The BVC will continue to intentionally make connections with those that represent our greater community and encourage BIPOC youth to learn and grow through the sport of track cycling.
The BVC believes that no organization is too small to purposefully make efforts to impact change. The BVC encourages others that may not have the facilities to do more, to reach out to us and join in support of our long-standing program for lasting change.
The Burnaby Velodrome Club will continue to:
· Establish, implement, and maintain a BIPOC Youth Track Cycling program
· Reach out to our diverse community and promote the BIPOC Youth Track Cycling program
· Support BIPOC youth to engage in competitive track cycling by minimizing barriers.
· Ensure that a BIPOC program is a consideration when establishing our annual budget.
Join our BIPOC youth cycling program starting March 5th every Friday at 4:30 PM. For more information on how to register CLICK Here.
View Policy Statement in Support of BIPOC