HOLIDAY SEASON
What are YOU doing over the holidays this year?

Come in + join us at the Track-Holiday-Season to find out what you're capable of doing before this year 2020 ends. 
It has been quite a year for all of us, right? Packed with challenges + opportunities. One is to never give up your dream of becoming a better cyclist, just staying fit + be with like-minded people. Therefore we are open even in between the festive days:
December 28th, 29th + 30th in the afternoon.
Youth Beginner 15:00 – 16:30
Junior 16:30 – 18:00
Open Track 18:00 – 19:30
And we may even put a star on you…😱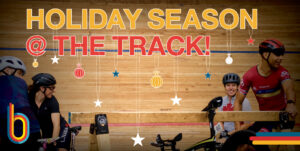 See you there!