Youth Programming + Covid-19 Update
We constantly update our program with the newest requirements for cycling as per the PHO orders to offer our members an opportunity to use the facility as best as we can.

BVC Program Status as of 7-Dec-2020 
Open Track / Performance Training 
Permitted: Yes
Ride at > 3 m distance.
May not ride together or sit together unless from the same household
Max booking of 10 riders per 90-minute sessions
Register online via the membership portal
Junior Track, and Youth Track 
Permitted: Yes
See schedule and FAQ
Max 8 riders per session, + 2 coaches
Ride at > 3 m distance
Register online via the membership portal
Programming for Cohort Training + Racing
Learn to Ride / Novice workouts + BIPOC 
Permitted: No
To reduce the risk, I will: 
Come to the velodrome only when I am well
Keep greater than 2 m distance from others
Wear a mask when not riding
Follow the Provincial Health Officer Orders at all times
Keep Well + Ride On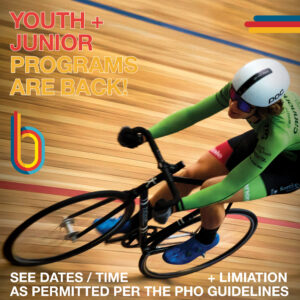 FAQ: 
Is the velodrome still open? 
Yes, we are fortunate to be open and permitted to have individual open track and performance training sessions as well as youth riding sessions. However, this comes with great responsibility for our members. At no time are we permitted to gather, group, or be within 2 meters of each other. You are more than welcome to come to the velodrome to enjoy a ride and burn off that energy, but you are not permitted to group ride or just hang around.
What will the hours of operation be? 
Check the schedule https://www.burnabyvelodrome.ca/schedule/ We will be operating as many hours as possible to give lots of riding opportunities for members.
Can I ride with my teammates at the velodrome? 
You can ride individually at the velodrome. You cannot ride in a group. You must always maintain more than 3 meters between you and other riders when on the track – more distance is better.
What is with the youth and Junior sessions? 
As per the PHO order, Youth sport is permitted. The BVC will continue to support youth (<19) programming at the following sessions:

Monday 6:00 pm-7:30 pm Youth Intermediate (new) This time slot is for faster grey bike and adult bike users. Youth that has been on the track for at least a year and is pushing the pace, but just not yet old enough or ready for Junior training.

Wednesday 4:30 pm-6:00 pm Junior training U19 – DEVO approved licensed racers U15, U17.

Thursday 4:30 pm-6:00 pm Youth beginner – Frog bikes and grey bike users that have been riding for a few seasons but are not big enough to ride at the faster paces and durations of the intermediate group as well as new riders learning track.

Will there be "Learn to Ride" sessions? 
Everything is on hold till the PHO updates the orders on January 8th or until further notice.