Barest Bones Summary and Timed Events Results
Thanks to all those that made it out this past weekend to the Try the Track and Timed Events – Test event.
It was definitely great to see familiar faces and new faces at that track. It is such a privilege to share in the excitement of the Try the Track program and then turn around the next day and watch riders dig deep into the pain cave. I hope everyone had as much fun as I did.
On Sunday we ran some timed events and tested our capacity to run an event like this. Things looked pretty good and I think we can do this again. Stay tuned.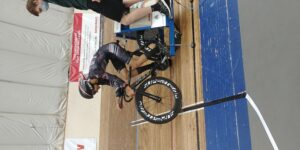 | | | | | | | | | |
| --- | --- | --- | --- | --- | --- | --- | --- | --- |
| | Name | 200m 1st | 200m 2nd | 500m | 1000m | 2000m | 3000m | 4000m |
| 1 | Rob Gooch | 12:07 | 11:85 | | | | | |
| 2 | John M | 13:53 | 13:39 | 41:529 | | | | |
| 3 | Melina | 17:09 | 17:58 | 51:800 / 50:701 | | | 5:00:049 | |
| 4 | Dennis | 15:58 | 15:28 | 50:029 | 1:35:739 | | | 7:00 |
| 5 | Marc Sasso | 15:24 | 14:59 | 45:063 | | | | 6:26:361 |
| 6 | Malcolm | 14:49 | 14:47 | 43:670 | | 3:07:108 | | |
| 7 | Jim Lee | 15:52 | 16:05 | | | | | |
| 8 | Timothy | 13:00 | 12:63 | | 1:16:075 | | 4:11:574 | 5:35:225 |
| 9 | Marcus | 13:02 | | | 1:20:449 | | | |
| 10 | Manu | 14:01 | | 41:398 | 1:23:662 | 2:55:7775 | 4:33:484 | 5:48 |
| 11 | Alex | 13:00 | 13:24 | | 1:18:315 | | | 5:37:34 |
| 12 | Uli | | | 38:286 | | 2:31:818 | | |
| 13 | Sage | | | | 1:12:990 | | | 5:07:665 / 5:08:225 |