B5 – Keith Christopher Thomas Bruneau
Name:  Keith Christopher Thomas Bruneau or………Tuna (Long story short,  I was the first victim of the nets at BVC, draw your own conclusion)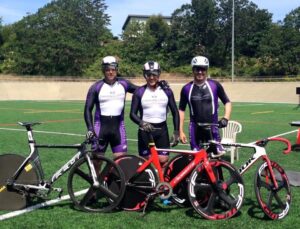 Bike: Koga "Kimera" Hands down the best bike I have ridden on the track, and I've ridden a lot of very nice bikes.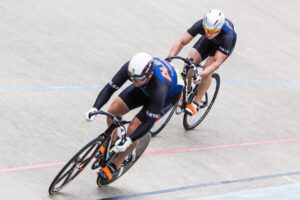 Photo by Jay Wallace Images
How long you have been riding road/track / Burnaby Velodrome?
I've been riding track since 1989. I was one of the many people who helped build the track in Burnaby and was lucky enough to be one of the first to ride it. I was even interviewed by the CBC along with Theo Van Tol. In that interview, you could see that we were riding on the track without a portion of the Cote.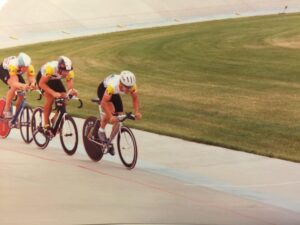 Photo: My first National Championships 1992 shared with Dave Cook and Kevin Okhochi. The first team sprint on the Softride bikes (check out the second and third bikes – no seat tube) with Aerobars (the last year we could use them was 1993).
What are your goals?
First and foremost to enjoy the ride. The track is a sacred place for me, if you're not there to enjoy it, you're there for the wrong reasons. One of my goals is to push back on father time, see how long I can stay healthy, and continue to push boundaries. Another important goal for me is to give back the knowledge I have and hopefully help to shorten people's learning curve so that they can find success easier than I did. I thoroughly enjoy the coaching aspect and will continue with it.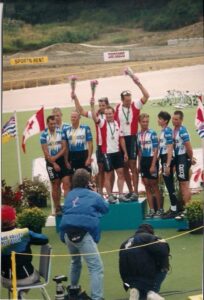 The team sprint podium was from 1993 in Victoria with Robert(Bob) Cameron and Fred Hamon who only 6 months prior went over the boards at a temporary track built in Hamilton (Fonthill Lumber track – built by Peter Junek). Fred up until a few days before was still using a cane getting around.
This clip gives you a good idea about the short track build in Hamilton, ON.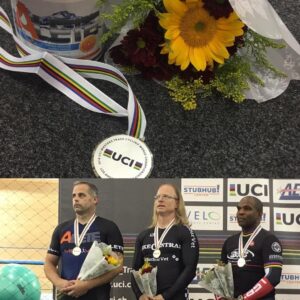 UCI Masters World Championships – Team Sprint
Something funny about your experiences on the bike or at the track, or how you got into track riding?
See above regarding the nickname "Tuna". To come up with something funny in particular is difficult, although a few funny stories come to mind. The first is one involving a very funny guy that holds many titles for his eating abilities. This one involves a trip we had to the Alpenrose Challenge in Portland with a bunch of us, including the notorious Mike McCorkel. It was a long race weekend in the hot sun and we were all a little fried, so to lighten the load of the day Mike said to us "watch this" he then proceeded to enter one of the "porta johns" on the infield coming out a few minutes later with a brown gooey substance all over his lips and cheeks stating out loud for all to hear "hey guys, it's really not that bad". I think to this day a bunch of the Portland riders still look on us a little differently because of it. BTW in case you're wondering, Mike went into the johns with a chocolate Powerbar. Generally speaking some of the best times I've had relating to cycling are between the races, not in them, if you look at the current group of teammates I have, how could you not be laughing a bunch of the time?
What do you do outside of riding?
I'm a two-wheeled sport kind of guy, I raced street bikes for a number of years, and I've taken to doing some enduro dirt bike riding over the last few years