B5 – Neil Davies
Name: Neil Davies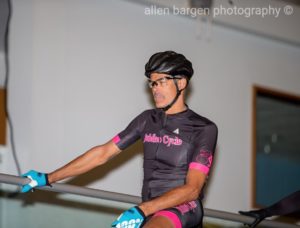 Bike: Fuji Track Elite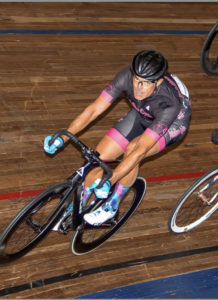 How long have you been riding/racing track and road?
I have been riding as long as I can remember. I used to go to all of my Dad's races in the early '70's and I couldn't wait until I could race! I started racing on the road in the late '70's…… I came up with a fantastic group of Jr racers, Alex Stieda, Bruce Spicer and Brian Green. Our coach at the time, former Canadian Olympic track coach Barry Lycett nicknamed us "The New Era". Seems so funny, now over 40 years ago.
We all grew up racing on the China Creek Velodrome in Vancouver which was eventually demolished in 1980.
Fun fact….. My Dad won the very first race on that track in 1954 and I won the very last track league race on that track before it was demo'd.
Photo of My Dad and myself on the China Creek track in 1978.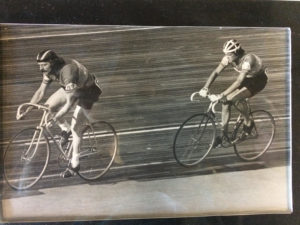 I raced into the late 1980's then took a long hiatus.
In 2012, I decided I'd try to get fit and do Axel's Granfondo and then Whistler. I managed to get pretty fit so I thought I might as well get back into racing.
In 2014 my 13 year old son Tyler started racing with Devo and coach Tim Sherby got them all on the Burnaby Velodrome. I thought if I'm taking Tyler to the track twice a week I might as well start riding the track again which was awesome as I'd never ridden the Burnaby Velodrome before. I did my first race on Burnaby in the Burnaby 4 Day and have continued to race since then.
What are your goals?:  I really don't have any specific goals….. mainly to stay fit and try not to get my butt kicked too hard on Friday nights!