B5 – Tylor Sherman
Name: Tylor Sherman
Bike: Cannondale CAAD10 Track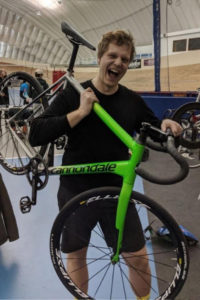 How long you have been riding road/track / Burnaby Velodrome?
Started at the velodrome in December and try to be there every week.
What are your goals?
Just getting my head around what this thing is has been enough to start, but now I'm excited to get more experience racing and to feel confident and competitive when things heat up. I love the thinking that goes in to riding on the track, and the adrenaline rush and satisfaction when everything comes together.
Something funny about your experiences on the bike or at the track, or how you got into track riding?
Initially, the velodrome was like something from another world. The special equipment, skills, and place all seemed abstract and inaccessible. A friend invited me to the Learn To Ride, which packaged everything up nicely and got me moving. I've been doing my best to pass on that spirit – just try it, it's easier than you think.
What do you do outside of riding?
I like to make little beats and jams on my collection of synthesizers, go mountain biking and snowboarding, and take my dog Sophie skateboarding! I partner in a software design and development company, 
Denim & Steel
, that specializes in building and maintaining websites for cultural and civic institutions like Science World, Emily Carr, and the Burnaby Public Library. I'm also a board member for 
Better Environmentally Sound Transportation
 (which runs the Bike Valet) and 
Vancouver Design Week
.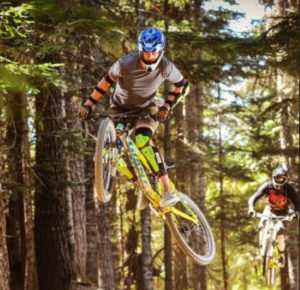 Photos of you, photos of your bike 🙂 riding, racing, chilling, all is good.