B5 – Victoria Armstrong
Name: Victoria Armstrong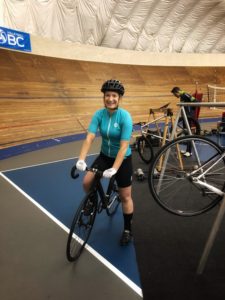 Photo credit: Allen Bargen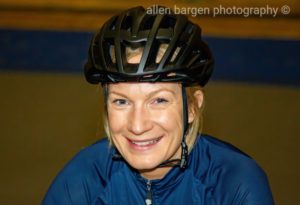 Bike: PlanetX Pro Carbon
How long you have been riding road/track / Burnaby Velodrome?
I first got into road cycling in 2009 after I was diagnosed with Type 1 diabetes, mostly as a way to help manage my blood sugar and lose some of the weight I had gained from starting insulin therapy. Out of pure luck, I chose to join Dulwhich Hill Bicycle Club (Sydney, Australia) which had a rich history of track cycling. They convinced me to give track riding a try and I spent a couple of years riding and racing on the track and road. I was absolutely hooked on cycling and it took over my life.
I went further down the cycling rabbit hole over the next few years and ended up taking to endurance mountain bike racing (solo 24-hour races to be specific) and then did a complete flip to downhill mountain bike racing. I ended up racing World Cups in Europe and North America for a couple of seasons – which ultimately led me to discover Canada and British Columbia. I moved here in 2016 and at the daunting thought of winter without bikes, I purchased a track bike. My attendance at Burnaby was pretty poor that year and I didn't really make a proper come back until the winter of 2019-2020 when I felt like I wanted to maximize my time on the bike while the snow was falling.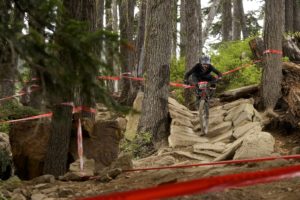 What are your goals?:
Right now I really just want to get pedal fit again so my riding improves. I basically spend all summer riding jumps at Whistler Bike Park so I'm pretty out of shape for track or road. I've been on the trainer and rollers a lot in the past few weeks and when the going gets tough I definitely think about not getting dropped too early from those C grade scratch races.
Something funny about your experiences on the bike or at the track, or how you got into track riding?
A couple of track related stories come to mind:
I was born in NZ and I remember watching the NZ track team when the Barcelona Olympics were on. I remember feeling so inspired and decided that's what I wanted to do. I stole my sister's bike (I didn't have my own) and went and pedalled around the block 4 times, which had me exhausted. I was 9 and it took another 18 years for me to finally have my own bike and the opportunity to try the track.
Out of passion for fixed wheel bicycles I travelled to Tasmania in 2011 and competed in the Australian National Penny Farthing championships in Evandale. I borrowed a bike that was slightly too big for me and had to zap strap cork sanding blocks to the pedals so my legs could reach. Somehow I managed to ride/race that thing 100 miles and came second overall. Looking back, I really don't know how I did that. I also started a solo cycle tour of Tasmania the following day so must have recovered OK!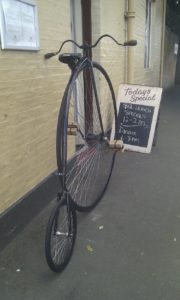 What do you do outside of riding? 
Umm, other types of riding! I have 5 bikes and I try to ride them all equally. Road, track, downhill, trail riding and dirt jumps. Currently looking at getting a gravel bike to get back into some adventure riding and touring. I live in Whistler so I also dabble in some skiing over winter.
I'm an IT consultant and have always been a bit of a computer nerd. I also like mixing/making electronic music when I find the time in between bike rides.