B5 – Malcolm Kenning
Name: Malcolm Kenning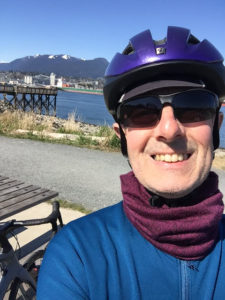 Bike: Fuji track Pro ( modified by previous owners) – which I love!
How long riding track: about 2 1/2 years
Goals: Well I'm not very fast but trying to improve so maybe, just maybe, I can enter BC Summer Games 2021. Oh ya, and I want to be riding track even when I'm 100!
I've always cycled since receiving my first red CCM; riding to work, a bit of touring on the gulf islands and more commuting. Perhaps it was a bout of 'madness' which made me first visit then try LTR at the track. That first lesson with Julian got me 'hooked' – the experience of racing from the rail is like that first time on a roller-coaster and it feels like I'm 12 again!
Coming in a 'newbie' both to the track and cycle racing it has been amazing to see the power and skill level of the A's, B's and many of the C's in action. Massive inspiration!
Literally every workout and every race is a learning experience for me…
Some mistakes I don't repeat- like riding the rail too slowly, on my second LTR, and finding myself sliding on my butt in front of the class.
Thanks to the patience, good humour and excellent coaching of Julian, Rachel and Brendan I can race without too much embarrassment.
Should mention, as well, the amazing help and tips from Michael, Claire, Hans and DavidM …and really everyone at the club!
Right, something funny… perhaps something about 16 year old me convincing my parents, somehow, that riding solo from Vancouver to Victoria and back to Vancouver again for a day trip was really no big deal. Really.
Well- this is me looking excitedly forward to the day when we can return to the track!
Photo credit: Allen Bargen