B5 – Jennifer Gerth
Name: Jennifer Gerth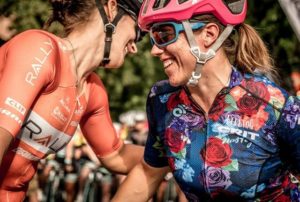 Bike: A blue Blue. After a bad crash in spring 2016 that broke my bike I needed a new bike, so I bought my current bike from Jenna Nestman, who bought it from Morgan Cabot, who bought it from Gina Grain, so it's been ridden at the BVC a lot over the years. (just so you can follow along we inserted this flow diagram of the "sisterhood of the travelling bike")

How long have you been riding road/track/Burnaby Velodrome?
After I graduated from university in 2002 I thought I'd better do something to get back into shape so I decided to race a triathlon in 2003 because I had a couple of friends racing triathlon. I did that for a couple of years and joined a local bike team, Team Coastal. Team Coastal was putting on the Thursday nighter crits, so I started racing them in 2005. I realized that bike racing was so much more fun than triathlon so I never did another triathlon after 2005. Around this time I became aware of track racing at the velodrome too and it seemed like so much fun to me. I took one learn to ride around this time and it was taught by Gordon Ross. A couple of years later, I started working for his company and have been working there ever since. That attempt at track riding was a bit of a false start for me and I don't know if I did more than one or two learn to rides. It wasn't because I didn't enjoy it, but I think it was more logistically challenging for me at the time because it was difficult to get to the BVC when I was living in Surrey and because the rental bikes didn't fit me well (they weren't small enough). I needed my own bike!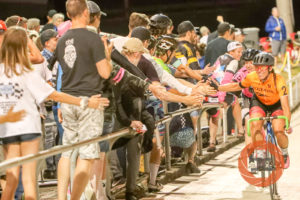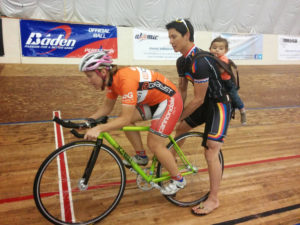 Track riding and racing still seemed like something I wanted to do so much and finally in 2007 I got back to it. I took the learn to rides all over again and then started riding regularly. I also bought a bike, a custom made Karma that fit me perfectly, so things were good. I would go to the Wednesday evening workouts led by Jeremy Storie and they were so fun. They still are, even though I miss Jeremy a lot. I'm not really fast and even though I loved the track, I still felt scared most of the time I was on it, so I was happy just riding and doing workouts, but in the spring of 2008, Jeremy convinced me to try the May Days race because there would be a novice women's field. It turned out I was the only novice woman registered so I raced with the 3 other novice men and didn't do that well, but Jeremy must have thought I was safe enough because for the rest of the weekend I joined the elite women's field and got my ass kicked. I loved it though. I had never experienced a race weekend before and I thought it was so cool. Richard Wooles gave me a Provincial jersey for cat 4 / novice women, so I thought that was cool. I believe David Miller found a picture recently.
What are your goals?
One of the two big track racing goals I've had was to race two Japan track cups in 2014. After training really hard with Kelyn Akuna, Claire Cameron and I travelled to Tokyo and raced at the Izu velodrome which will host the 2021 summer Olympics. That was a pretty cool experience. While we were there we had a private tour of the Keirin school which doesn't get a lot of international visitors. Then last October I had another big track racing goal and I raced at the master's track worlds in Manchester. My goals were the scratch race and points race and I came 5th in the scratch race and then later that week 3rd in the points race, so it was pretty cool to land on a podium. I really want some world champion stripes now, so I think my next goal on the track will be that. If only there was an Elimination world champion as that's my favourite race!
My memories of that last worlds is still fresh and I still get happy and teary thinking about it. So many people, past and present BVC members helped me out and that was pretty cool. Michael Wegner lent me some super-fast race wheels, Dylan Davies lent me gears, my husband David Gerth coached me and gave me so many great workouts when there wasn't a lot of group workouts or races in September and so many veteran racers gave me advice and helped me out so much and just wished me luck!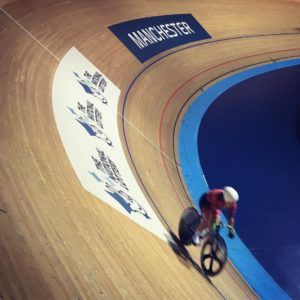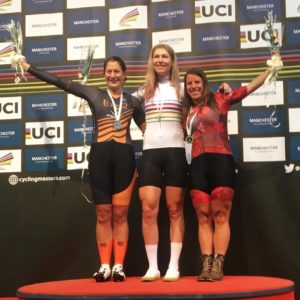 Some funny memories on the track?
I have a lot of toe overlap on my bicycle especially on my last bicycle so I once rolled up to the rail and didn't straighten out my wheel. When we rolled off the rail, my wheel was pointing up and I tried to turn it down but it overlapped my toe, so I kind of just rolled down the rail. I quickly got back up and tried to catch up on the neutral lap, but I think we had more than 1.5 neutral laps that time. 
I've crashed a couple of times on the track which is never fun, but once it was kind of funny. We had just finished a sprint for points and Ryan Cousineau was high on the rail. He came back down the track to get back in the race and pushed me off the track! I didn't get hurt, so that's why this one was funny.
Oh and Spencer Mulder still owes me a lap or a leadout or something because recently we did a win and out race and Spencer was the volunteer bell ringer and on on the sprint lap I was at the front and ready to sprint and we didn't get the bell. We did an extra lap and I didn't win that sprint, so he owes me.
Also, maybe not a funny memory, but a reason I love the velodrome so much is that I've been able to meet and talk to people from all different clubs. We get a lot of time off the track, especially during race weekends when you really get to hang out with people and I also ride to and from the track and most of the time I am not riding home alone. It's pretty great getting to know so many people even when I am dying riding back up the Barnet Highway after a workout or race!