B5 – Mike Robson
Name: Mike Robson
Bike: I have a new to me Fuji Track Elite
Home Track: Jerry Baker Memorial Velodrome
How long have I been riding track: I've been racing track for the last 10 years and have been riding bikes for the last 42 years.
What I like about track: I started racing Burnaby this last fall and love the tight corners, fast competition, and the rhythmic sounds of bikes on the boards.
What are your goals in cycling: Besides beating Hans in a race again I was hoping to win an old man Stars and Stripes Jersey this summer.
What do you do outside of track cycling: When I'm not track racing I spend time with my family and get shreddy on my mountain bikes.
Photo credit to Dennis Crane: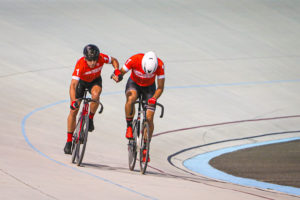 Mike Robson – Black helmet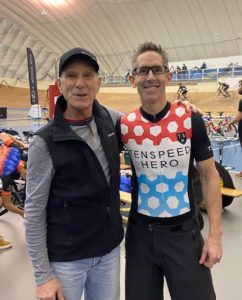 Making new friends at Burnaby – this kit looks like the old Ten Speed Drive kits
Master's Kieren Podium 2019 Fred's Race