B5 – Atilla Avsar
Name: Atilla Avsar
Bike: black carbon, the previous bike was a Giant
How long have I been riding track: Since I was 13, I raced on the 1976 Olympic velodrome in Montreal and the 1996 Olympic Velodrome when it was relocated to Bromont QC.
Here is my story: 
When I was 13 I started riding with the intent of becoming a professional cyclist. Up and down over the world's course Eddy Merckx won on in Montreal. Unfortunately, a year later I was diagnosed with bone cancer in my right tibia (shin) and I had to go through 18 months of very strong and hard chemotherapy, surgery and radiation and a brace on my leg for almost 3 years. When the doctor was trying to explain to me what I had without saying the C-word I asked him when I would be able to start racing again. He told me I should probably forget about racing my bike.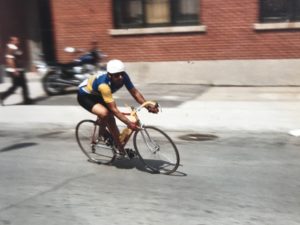 I started racing as a junior for Miyata bikes which was a powerhouse team. Louise Lalonde the hall of fame official was the president. I didn't do great obviously but in the middle of the season one-day things came together and in a crit in Sainte-Foy, Quebec I was off the front contesting primes, breaking away. That race which I didn't finish because I kept attacking and fried myself, was the moment to me I became a racer. By the end of the season, my team had been invited to the Tour de l'Abitibi (we didn't go) and I had raced the now-iconic 7-11 team in a professional race in limited junior gearing. I got mad at them if you can believe it because they kept hammering and I was spinning out. I think Brian Walton or Ross Chafe who tragically passed away in that road accident near Whistler won.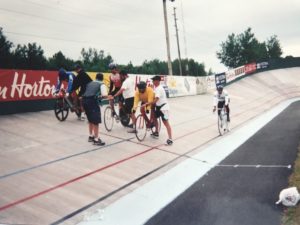 The next year as a first-year senior I raced for Bartali Mancini which was sponsored by Nick Mancini a clothing importer and the mythical Gino Bartali two time winner of the Tour de France, Tour of Italy, Milan San Remo etc… One of my teammates who was a veteran Vincenzo Meco had won a stage of the Tour of Italy and worn the Maglia Rosa the leader's jersey. I was still a teenager and I thought this was all normal (it is) and that I would do these races one day. (I should have kept going then but was so broke).
Over the years I've stopped and started racing and have done over a thousand races and probably won over a hundred races, sprints, primes including downhill etc. I've won a bunch of titles in paracycling in later years racing for fun and made the pool (Zeus program) for the Rio games.
The greatest thing I have ever done in cycling is being one of the founders of Cycling combatting Cancer "CCC" with Damon Phinney, father and grandfather to the pro cyclists Davis, Taylor and Connie. We worked with Livestrong before Lance won his first tour. They have a meeting room dedicated to CCC. The incredible people who joined afterwards raised millions of dollars for cancer research. Damon was an amazing guy.
One last thing I started to go up against Hans the BVC president in pack sprints at the Montreal Velodrome when we were still teenagers in the eighties. He used to race for the Ottawa bicycle club with Gord Fraser (3 time Olympian and Tour de France sprinter) and they would come over to race. I have a very distinct memory of Hans challenging me in a photo finish style sprint in a points race. Imagine going up against Gord and Hans as they were coming into their prime. Hans was/is a great racer and won some big races.
Here's a link to Vincenzo winning his iconic stage victory in the Giro!