Krampus Christmas Challenge 2018
On December 21st, at 645PM, the Burnaby Velodrome Club be hosting the Second Annual Krampus Christmas Challenge!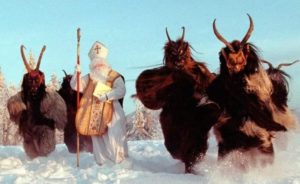 The tradition was started when two of our more… vocal members had a whinge about one of the races being canceled on the last night of racing in 2017. This is an unofficial race, with no points being awarded.
This year's benefactor is the Britannia Secondary: Breakfast Program. More information about this program can be found here.
Entry for the Krampus Christmas Challenge is $20, with 100% of all entries going to the charity.
Last year we had prizes for winners of each race, with the winner of the last race getting the prestigious lump of coal. This year also boasts a similar, but top secret prize!
There will also be a Christmas Crawl, winner take all! Entry is $3. Heckling is encouraged.
Racing kicks off at 6:45, there will be no Novice category. Schedule of events:
646: Christmas Crawl. $3 entry, winner takes all.
Race 1: Belgian Win 'n' Out:
C Group: 20 Laps
B Group: 30 Laps
A Group: 40 Laps
Race 2: Point-a-Lap
C Group: 15 Laps
B Group: 25 Laps
A Group: 35 Laps
Race 3: Scratch Race
C Group: 25 Laps
*B Group: 35 Laps
*A Group: 45 Laps
*I've got something especially obnoxious planned for the last two races of the evening.