Open House presented by the Burnaby Now 2016
That's a wrap! The Burnaby Velodrome's Open House presented by the Burnaby Now was another success. We had nearly seventy five people ride the boards during the five sessions over two days.
The sessions started with talks of safety and learning how to start and stop a fixed gear bike. We moved onto riding the bikes along the apron (concrete along the bottom of the track) and Cote where there is no minimum speed.
The next progression had riders going up onto the straight aways showing us a great deal of skill and track awareness. Once each of the riders was comfortable with the skills of shoulder checking, speeding up, slowing down, and entering/exiting the track safety we moved on. The next step is the most exciting and what everyone looks forward to the most, riding the corner. The bankings at Burnaby at forty seven degrees at its steepest point and do require a minimum speed of thirty kilometers per hour. We broke the group down into groups of two to five and coach Julian took everyone on for their first laps of the track. This didn't pose any difficulty for our attendees who took to the boards very quickly.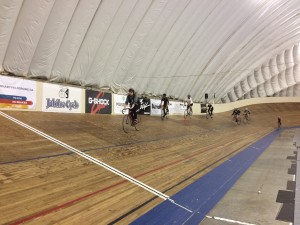 Once riders got a few laps under their belts with our coaches the group was able to get some extra laps in with coach Julian or on their own if they felt comfortable. We want to say thank you to everyone who came out and enjoyed riding the track. We want to say thank you to the Burnaby Now for sponsoring the event. We also want to thank our members who came out and volunteered during the weekend.
For those who missed out on riding the track or who want to give the track a try we have a summer special on our learn to ride program. We are offering five ninety minute sessions including a bike rental, coaching, and insurance. Everything you need to try the track for Eight eight dollars including taxes. Learn to ride programs happen Monday and Friday nights during the summer form 8:30pm-10pm. Sessions are drop in so no need to preregister and we always have coaches on site to run sessions 1 through 5 making learning to ride very easy. Please check out our schedule page for the next available class and our learn to ride page for more information.
For kids under nineteen years of age we offer junior programming specifically for youth. The first three times are free to try including bikes, and coaches. Bike rentals are always free for youth under nineteen years old. We also have a program for Aboriginal youth which happens on Friday. For more information about Aboriginal youth sessions please click here. If anyone has any questions about our programs please email [email protected] or [email protected].