The next Feature Friday Night Race starts in...
Results
In addition to our regular Friday night club racing, we're thrilled to announce the addition of a Feature Friday Night Race Series (FFNRS) presented by Livestock and Incase. The last two races are on February 14th and March 21st and we're pulling all the stops! Aside from top notch racing, spectators can expect to find a beer garden featuring some of the area's best microbrews (must be 19 or older to enter the beer garden), coffee provided by Musette Caffe, great music, good food, and fun times. Racers will be competing for points to earn the coveted Feature Friday Night Race Series Leader's jersey presented by Vie 13 Kustom Apparel. If you've only ever seen track racing on TV, you owe it to yourself to come on down and experience first-hand, cycling at its best!
Spectators
When: February 14th, and March 21st
Where: The Harry Jerome Sports Center, 7564 Barnet Highway, Burnaby, BC V5A 1E7
Time: Doors open at 6:30pm, Racing begins at 7:00pm
Parking: Parking at the Velodrome is limited so we are pleased to announce that we have overflow parking, and a free shuttle, available at the Mountain Air Bike Park (1.2km East on Barnet Highway).
We recommend carpooling or public transit (the 160 stops right in front of the velodrome) whenever possible. Please do not park in front of the Kask Brother's driveway or along Barnet Highway... you will be towed.
Cost: $5 adults, children 12 and under are free (we now accept credit cards)
Come Hungry: Food and beverages will be available on-site, see below for the menu.
Oct 18th: Fresh Local Wild; Parallel 49
Nov 15th: Fresh Local Wild; Coal Harbour Brewing Company
Feb 14th: Old Country Pierogi; Four Winds Brewery
Mar 21st: WINGS; 33 Acres
Event Photos
Images provided by http://www.adventureseekers.co/
Competitors
Race Entry: $22 Non-members, $12 members (included in Race Pass)
Categories: A, B, Women, Junior Men*, and Junior Women* (*November 15th and March 21st only); UCI licenses are mandatory
Schedule: See Fall 2013 Friday Night Racing Schedule
Parking: For race day, please do not plan on parking at the facility. Gear drop off will be available prior to the event and a shuttle service from Marine Park to the velodrome will run as needed.
Prize Purse: Prizes and prize money are in the overall and will be awarded March 21st
The Leader's Jersey:
Glory can be yours…but you'll have to earn it!
At the end of each Feature Friday Night Race Series event the point's leader in each category will be awarded the Vie 13 Leader's Jersey. At the series finale on March 21st the overall FFNRS champion's jersey will be awarded to the overall leader of the series. Points are only accumulated during FFNRS events.
Rules of the Vie 13 Leader's Jersey
Only the current leader may wear the jersey.
The current leader must wear the jersey during Feature Friday Night Races
Wearing the jersey is optional for regular Friday Night Races, but highly recommended
Don't forget to print out and complete the Rider Profile Form so our announcers know more about you.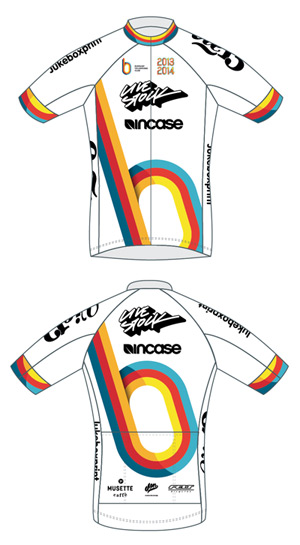 Volunteers
We're lucky enough to have one of only two indoor velodromes in Canada so we're pretty passionate about putting on races that leave people with a good impression, not just of the facility but the sport as a whole. In order to make that happen we're always on the lookout for more help. Volunteer positions are typically short and leave you with plenty of time to watch the racing and soak in the atmosphere. To find out more or to volunteer your time please contact info@burnabyvelodrome.ca