The Western Track Challenge was established 2017 as a collaboration between the Burnaby Velodrome Club, Cycling BC and Cycling Canada. This Nationally sanctioned event is a platform for U19, and U17 racers to challenge their fitness and hone in on that competitive spirit in preparation for the Junior Nationals. The event also serves as a regional Championship for Western Canada and attracts racers from the Pacific North West.
If you are a track racer, we cannot think of a better place to be in Canada in January than the Burnaby Velodrome!
2019 Event Features
– Racetiming.ca – accurate, instant and live online results
Vancouver's one and only Ryan Cousineau – on the mic
*NEW* Youth ability base racing! *NEW*
Sprinters Omnium
Endurance Omnium
A heck of a lot of fun in 200m!
Tentative Schedule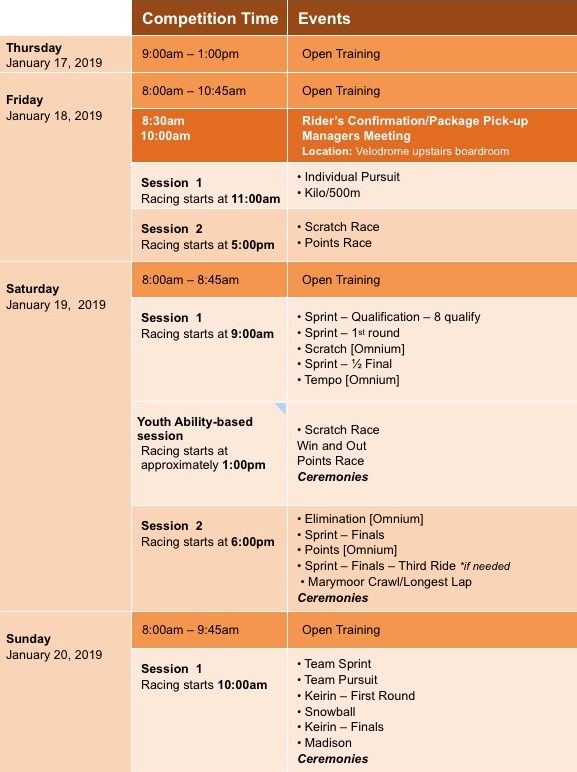 Technical Guide
Click here to download
Eligibility
Licenses or UCI Licenses (Canadian or abroad) are required.
All competitors must enter their event class as shown on their license.
Master A: 30-39
Master B/C: 40+
Master W: 30+
Elite: TK Category 1/2/3
U17
U19 Men, U19/U23 Women
Youth ability based – those not ready to race championship races
Registration
Open until January 16, 2019 11:59PM
Click Here for Registration
Where
Burnaby Velodrome
Harry Jerome Sports Centre
7564 Barnet Hwy, Burnaby, BC V5A 1E7